Here's all the interesting stuff from the last month and few days. Here's the link to the last Repost Megapost from March. I'm going to have to start doing these more frequently so they don't get huge. I try to share as much as possible through google reader though, so that's another way to shift things around.
Desktop Dump images are unattributed, unfortunately. If you know where they are from, let me know. I've usually gotten them through several layers of filtration and reposting already.
The June Calls for Entries list will be posted tomorrow.
—————————-
via Word of Command
—————————-
via Big Fat Whale
—————————-
GUY DEBORD is celebrated as the leader of the Situationist International and as the author of the searing critique of the media-saturated society of consumer capitalism: The Society of the Spectacle.
What is much less well known is that after the May '68 Revolution, Debord and his partner – Alice Becker-Ho – quit Paris and went to live in a remote French village. Over the next two decades, Debord devoted much of the rest of his life to inventing, refining and promoting what he came to regard as his most important project: The Game of War.
—————————-
via Mikael Kennedy
—————————-
In Samantha Peale's debut novel, The American Painter Emma Dial: A Novel, the narrator is the studio assistant for fictitious NYC painter Michael Freiburg. NY Times reviewer Deborah Solomon reports that the novel has a based-on-experience directness that tends to stray from sharp-eyed observation into the mush of unfiltered whining. Not surprisingly, Peale herself spent four years as a studio assistant to uber-artist Jeff Koons.
—————————-
—————————-
I Am Legend Original Ending. Hm.
via FirstShowing.Net
—————————-
In terms of advertising, billboards constitute the greatest and oldest aggression and one that no one can avoid. We are free to watch or not to watch TV, to listen or not to listen to the radio, to buy or not to buy a newspaper, but not to move freely without being confronted with a never-ending show of images and slogans. This visual debauchery impairs our view and our perception of traffic signals. It dirties our living space, reduces our freedom of thought and limits our capacity to dream. The confiscation of public space and its commercial exploitation are all the more inadmissible as the landscapes are by law considered "public goods of the nation" and the rules concerning advertising are part of the 5th chapter of the French "Code de l'environnement", entitled : "Prevention of pollution, risk and nuisance". Regarding billboards, the advertising system enters our daily lives in the most obvious fashion. By attacking billboard advertising using non-violent direct action, we are making a first inroad into the advertising system and responding to its aggression. All the more as advertising posters are in easy reach !
—————————-
The Making of Zach Galifianakis
—————————-
There are many types of slime mold, and they come in a variety of lurid colors. You can see several examples, photographed by Russian researchers, in this gallery. You can see the two forms of slime mold in these pictures – the gooey collective form (the yellow grid/blob) and the more commonly-seen individuated form that looks like a stalk with a small sphere or lozenge on top.
via io9
—————————-
The most distributed image ever is being phased out. What remains is a hill in Sonoma Valley, California. In the context of this project we have re-visited the hill. "After Microsoft" tells the story of a January day in the late 90's when the hill came to coincide with a global branding strategy.
After Microsoft has been exhibited as an installation piece, including a projection of the re-photographed view together with a voice-over.
via Rhizome
—————————-
via John Lehr
—————————-
http://iamchriscollins.com/ and http://badpaintingsofbarackobama.com/

via Jon Rafman
—————————-
Michael Johansson
—————————-
Interview with Daniel Shea
By Andrea Bakacs
via Photography for a Greener Planet
—————————-
via Hrag Vartanian
—————————-

Dirk Skreber, Installation view, Friedrich Petzel Gallery
This week at The L Magazine I discuss the Dirk Skreber and Alex Katz shows in Chelsea.  Teaser below.
The erroneous belief that gallery art has a higher, more profound purpose often gets in the way of properly assessing it. So too does the authority of the exhibition space, which can intimidate even the most seasoned viewer. Gallerygoers tend to excuse bad art, especially if it's controversial. Maybe the work has greater rationality behind it than is immediately apparent; maybe the art isn't challenged by the liberal politics of the artist; or perhaps the art is even transcendental!

This came to mind recently when viewing Dirk Skreber's exhibition at Friedrich Petzel Gallery in Chelsea. Featuring two vagina-shaped crashed cars impaled on penile poles and bare-breasted paintings of super heroes, the show is the closest thing I've seen to pornography lately. I hoped there was more to it than appeared, until I read the press release, which described Skreber's sculptures as "begging ambivalence." In other words, they are to be read at face value. One might conclude the vehicle's fastidiously clean surfaces mean to sanitize the sexual references, which might have some merit were it not such an obvious appeal to a notoriously conservative collectors' market.
Read the full review here.
via Art Fag City
—————————-
via C-Monster
—————————-
Science Fiction's Baddest Women
via io9
—————————-
http://www.passiveaggressivenotes.com
(via blessthismess)
via CPB Tumblr
—————————-

AIDS-3D, OMG Obelisk, 2007, MDF, electroluminescent wire, steel,
hot glue, acrylic paint and fire
A scan of the catalog's biographies confirms that, almost without exception, the artists in the show are products of art schools, as often as not intensely professionalized, canon-driven environments. This may help explain why so much of the work on view comes with art historical references and borrowings, tweaks on tweaks on tweaks so intricate and numerous as to defy listing.

The same biographies reveal that nearly all of these 33-and-under artists already have substantial careers in progress, with solo shows in commercial galleries, appearances in international surveys and so on. So this isn't a promising-newcomer event. It's a market-vetted product and one that, my guess is, entailed relatively little adventuring on the part of its organizers.
While Cotter describes the professionalized state of the art world quite well (brilliantly, in fact), I don't think it's fair to penalize the curators for presenting an accurate account of that culture. After all, the criteria Cotter lays out no longer describes "promising-newcomers," but outsider artists. Younger Than Jesus has it's flaws, but not sharing the interests of a critic shouldn't be one of them.
via Art Fag City
—————————-
—————————-
Joerg/Will Interview
Will Steacy's current project is called "Down These Mean Streets", and to take the photos, he hiked from the airport to the central business district of the cities he was photographing – at night, equipped with a large-format camera. This is not something photographers do all the time – so I approached Will to find out more about his work.
via Conscientious
—————————-
Ume Kayo

—————————-
Facebook Status Update Sparks Discussion: MoMA's Fourth and Fifth Floor Lack Women
via Art Fag City
—————————-
Daniel Shipp
—————————-

If you've ever wondered why the air seems thinner at either of Earth's poles, then the answer may have something to do with our planet's magnetic field, and the fact that it just may be stealing our oxygen.
via i09
—————————-
Why Must We "Improve" Products That Worked Like They Were Supposed To?
"Consumer capitalism is also a disappointment at the thing it's supposed to be good at: the ordinary buying and using of stuff. It's especially frustrating when the market decides to improve something that customers didn't want improved. If the consumer marketplace allows useful, effective products to disappear, then what is it good for? Or who is it good for? Not the person who's buying."
via ArtsJournal.
—————————-

Painter David Hockney displays his iphone art.
via Art Fag City
—————————-
via "Don't You Ever Come Down?"
—————————-

Can you tell the difference between an Israeli and a Palestinian? – Haaretz – Israel News
The advertisement published in Haaretz in March read "Wanted: people who look alike," and promised NIS 8,000 to anyone that could locate someone who looked like one of the eight people featured in the advertisement.
What the advertisement didn't say, was that the eight people pictured were Palestinians.
The ad was made by Swiss artist Olivier Suter, as part of his project 'Enemies', which focused on the absurd ways people identify "the other".
The advertisement is similar to a project Suter performed in Belgium, which asked viewers if they could dfferentiate between Flemish and French speakers.
—————————-
via Yay!everyday
—————————-
via io9
—————————-
via cpb.tumblr
—————————-
Pierre Labat
—————————-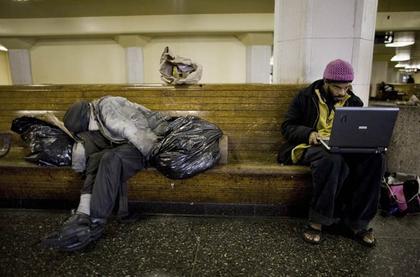 "You don't need a TV. You don't need a radio. You don't even need a newspaper," says Mr. Pitts, an aspiring poet in a purple cap and yellow fleece jacket, who says he has been homeless for two years. "But you need the Internet…"
via Boing Boing
—————————-
—————————-
via VVORK
—————————-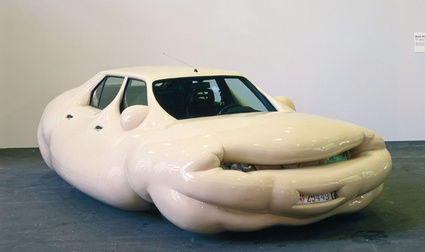 Erwin Wurm, Fat Car
—————————-
Teaching The Less Important Lesson
Today over at The Online Photographer Mike Johnston wrote a post suggesting that spending a year using nothing but a Leica and shooting nothing but black and white film could teach you a lot. I think he's right about one thing. It would teach you a lot, but about what? I think Johnston's claim was that the exercise would teach you a lot about photography. I think it would teach you a lot about shooting black and white film with a Leica. Which is all well and good, but a different thing than learning about photography.
via Tea Leaves
—————————-
God? Can you hear the internet?

Screencapture AFC
This week's Best Link Ever goes to
Joel Holmberg
's Yahoo Answers
profile
. Holmberg asks fellow Yahoo'ers irreverent questions that walk the line between poignance and hilarity.
—————————-
Move Your Boogie Body!

—————————-
Julian, age 7, heard that the Spirit Mars rover was stuck, and offered his idea to fix it. Turns out that's a pretty good idea and one that JPL folks are already considering.
—————————-
Morality May Be Hard-Wired In Mammals
A Colorado ecologist "has compiled evidence from around the world that shows how different species of animals appear to have an innate sense of fairness, display empathy and help other animals that are in distress."
via ArtsJournal
—————————-
Violet Voice – Yin and Yang by `shyble on deviantART
—————————-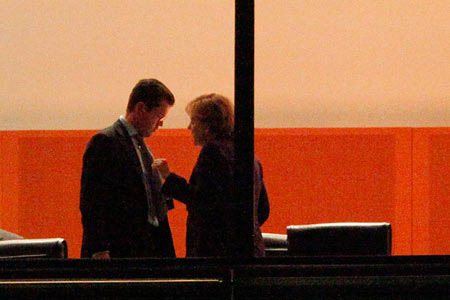 I had all kinds of image references going through my head when I saw these images of the German government trying to save a car company in lengthy talks at night (never mind the German text; simply click on the arrows or numbers to move between images).
via Conscientious
—————————-
Hellman's Real Fans

—————————-
via Boing Boing
—————————-
Saddam's Palaces Interview With Richard Mosse
via BLDGBLOG
—————————-
Via German weekly Die Zeit's Fotoblog comes this wonderful collection of glowing landscapes.
via Conscientious
—————————-
i heard a story about a hacker who lives in his own country that is on an oil rig. in my mind he is a bear and he loves his oil rig country.
—————————-
—————————-
Anne Schwalbe
—————————-
Marlon Kowalski

—————————-
via Tom Moody
—————————-
via We Can't Paint
—————————-
Orson Wells and the Muppets

via We Love You So
—————————-
New York Photo Festival Blog Panel

Those who were unable to come to the panel on blogging at this year's New York Photography Festival can find a video of almost the whole discussion here (only the introductions in the beginning are missing), taken by my friend Michel (merci!). Also, Laurel has posted a full audio recording.
via Conscientious (and others)
—————————-
Mainstream Media At It Again, Bloggers Report | The Onion – America's Finest News Source
The mainstream media—a loose consortium of corporate news outlets known for using professionally trained journalists who adhere to an editorial process—have once again completely missed the boat in their reporting of national events, outraged sources within the blogosphere said Monday
via Art Fag City
—————————-
Lynne Tillman

Some of the acts I've committed have been illegal. When I was five, I stole candy inadvertently from the candy store several blocks from my house, on a main road, in the suburb where I grew up, because its sign said, Take One, and later I stole lipstick from the town five and dime, and then shoplifted clothes from department stores, packing a skirt into the voluminous shoulder of a ratty fur coat, and purchased small amounts of cocaine, all relatively mild infractions of the law. Other people, who have scant education, less economic or skin privilege, might have been arrested, convicted, and sent upstate for the same relatively harmless but illegal acts, and other people have records against them that are public, so that anyone can find out what these people have done wrong, and while I have no record of crimes against property or person, nothing that would show up on police blotters or computers, nothing that I am aware of, or that might hurt me, though I am not aware of everything that might hurt me, I have committed illegal acts that have gone undetected, but I know what I have done, and I know what was wrong and illegal. Legally, I am sane.
via HTMLGIANT
—————————-
via Анатолий Ульянов – Кря-Кря
—————————-
Top Ten Star Trek Top Ten Lists

via io9
—————————-
via Same Bodies